10 Free Tools to Manage, Monitor and Analyse Social Media Engagement

1 Comment

Tuesday, 21 May 2013 |

Cate
Keeping abreast of the ever changing world of social media can be quite a headache for small businesses who only have limited amounts of time to focus on their social profiles. We've put together a list of ten free tools which you can use to help simplify your social media marketing strategy with creation, management, monitoring and analysis of your engagement.
Creating post content online

Reachli enables you to post your visual content, i.e. product images, promo banners and etc. all from one place. The free part of it allows you to connect to your Facebook, Twitter, Pinterest and Tumblr accounts so that any campaign you set up will post to each of these accounts at the same time.
You can add an image either via a webpage URL or by uploading one from your computer. There is also an image editor built into the system which allows you to do all the usual image editing functions but also gives you a range of pre-set effects and the ability to draw and add text on top of the image itself. This is useful for creating banners within the system without having to do them beforehand in a graphics package. Finally you can add a link into the post, which will compress to a Reachli shortlink for tracking, and a description.
After the post has been pushed out to your social accounts you will be able to view the number of clicks, likes, reshares, how far they reached per social site and other data such as location. As you create more campaigns the analytics tool will show you which campaigns have been more successful.
If you want to reach a wider audience Reachli has a pay-per-click option where you can set a daily or lifetime limit and have your campaign pushed out to blogs, websites and other social sites.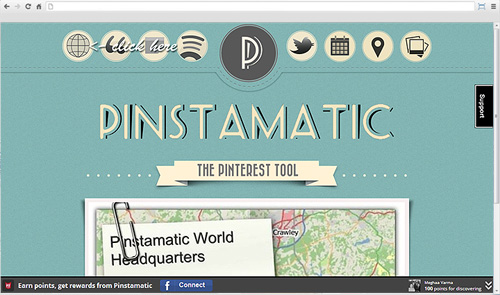 Pinstamatic is a simple tool for creating different types of media for Pinterest posts. It forces you to think outside the box, so that you're not just posting endless product photos to your boards. You can use this tool to capture screen shots of web pages, add stylized quotes or sticky notes, music from Spotify, a capture of a Twitter account and the latest tweet, a calendar date for a special event, a location map or a photo with either effect filters or with a caption.
There is no tracking or analytics on this tool; it is just a straight forward posting tool but it works well and most of all, it's fun!
Managing social accounts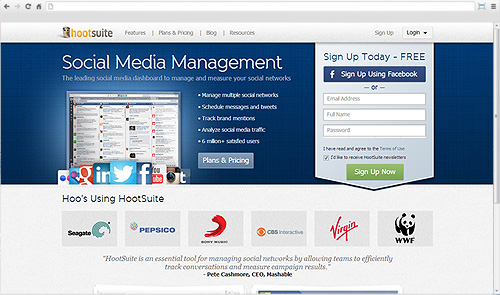 Hootsuite has been on the social scene for many years now and has slowly emerged as one of the top monitoring and posting tools on the internet. It has acquired many other monitoring tools and apps along the way, the biggest being Seesmic, proving that it is a force to be reckoned with.
There are three pricing packages available but if you're a small business you'll probably find that the free package offers enough to allow you to do the things you want to, although it does lean rather more in Twitter's favour. You can add up to five different social accounts, including Facebook, Twitter, LinkedIn and Google+ and each one is displayed in easy to view tabs within the online dashboard.
Each social profile has its own streams such as Home Feed, Mentions and Sent Tweets for Twitter, Wall Posts, Events and Private Messages for Facebook and Home Stream, Sent Messages and Following for Google+. However, you can choose to add your own streams to help with monitoring on Twitter where you can specify certain keywords and then all tweets containing that keyword will be displayed. This is not only useful for brand monitoring but also particular keywords you may want to respond to.
Hootsuite's free package also allows you to schedule updates for all of your social profiles. This is useful for timed messages or if you are unavailable at any time and have a campaign to promote. Hootsuite Pro gives you the added benefit of bulk scheduling, rather than creating each one individually.
The analytics is very basic on the free package and is mainly aimed at Twitter rather than any other site. However, if you use their Ow.ly shortened URLs for the links within your messages then these will be tracked within their analytics for free.
The contacts section is a useful tool for keeping a track of Twitter and Google+ followers with the Twitter follower profiles showing how many people they are following and how many are following them. It also gives the follower's Klout scores and a little icon specifying whether you are following them back or not.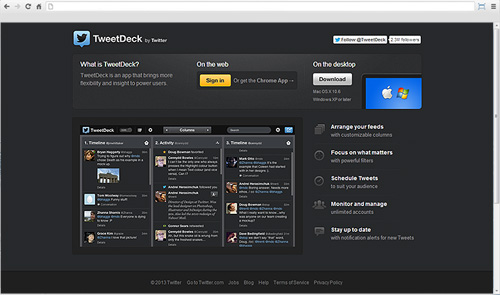 Tweekdeck (owned by Twitter) is another posting and monitoring tool but built specifically for Twitter. It is useful if you run more than one Twitter account as you can show feeds from multiple profiles on the main dashboard. It also allows you to monitor your profiles' mentions, interactions and activity from optional columns, as well as setting up and managing scheduled tweets.
The most powerful feature, however, is the ability to create filtered columns and set up alerts for each one. For instance, you can set up a column that only shows tweets containing a certain keyword and have a sound alert whenever a new tweet is posted. This is particularly useful for monitoring tweets you may want to respond to and encourage new conversations.
Tweetdeck is only available online or via the Google Chrome app. They recently revoked their iPhone and Android apps in favour of focusing on their online versions. However, Twitter provide their own mobile apps which can be used as an alternative to Tweetdeck whilst on the go.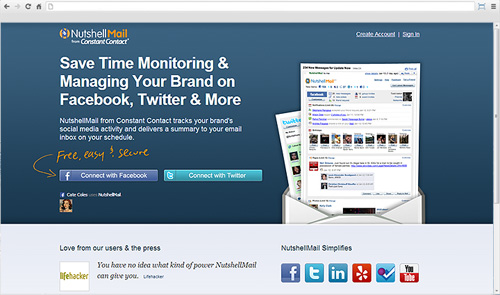 From the guys at Constant Contact, Nutshell Mail is an alert system that can send you regular scheduled emails to inform you of posts, replies, likes, retweets etc to your Facebook, Twitter, LinkedIn and more. The email can be scheduled to a time that suits you and includes buttons on each message so that you can respond immediately, straight from the email. This is a great tool for monitoring your social sites on the go without having to log in to multiple sites.
Monitoring your brand engagement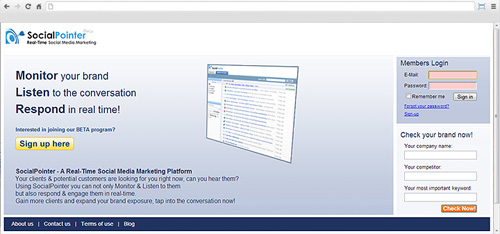 Social Pointer is still in Beta stage but it is a quirky little tool that allows you to add your company name, keyword phrases and competitors into the settings and then it will do a quick search around the internet. Once it has completed its search it displays real-time results from blogs, social sites, news and media. You can then filter between your different search terms to drill down to certain areas.
Within the initial set-up it asks you for one company name, two keyword phrases and two competitors but you can change this around once through the wizard and use your allowance of five search terms however you want. So, you could specifically focus on keyword phrases if you wished. These can be changed at any time, so changing your focus to competitors is easy.
As Social Pointer say you can use their tool to Monitor, Listen, Respond! The respond part it quite nifty. Just click on one of the results and you have a choice of sharing the result with other social sites, emailing it to a chosen recipient (great for informing certain people within your business that they need to respond to it) or adding tags. The tags allow you to group results together and keep track of them. Of course, you can also go to the result directly on the relevant site via a link and respond as required.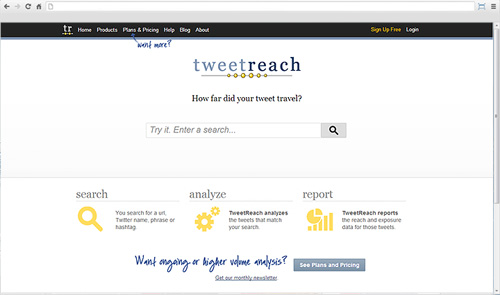 Focused entirely on Twitter, TweetReach allows you to search for a URL, Twitter name, phrase or hashtag and see an array of different analytical and real-time results which can prove useful when planning and analysing campaigns.
The basic free version shows you how far your tweets have reached in terms of impressions, activity, contributors and retweets. It also gives you details of the newest 50 tweets relating to your search but if you want more than that, you'll have to pay.
Although this gives you a limited amount of information, what is most useful is looking at what your competitors are doing. Do a search on one of their tweets, or even just their company name, and see who is talking about them and what they are talking about. You can perhaps use this information to target the same people in a future campaign.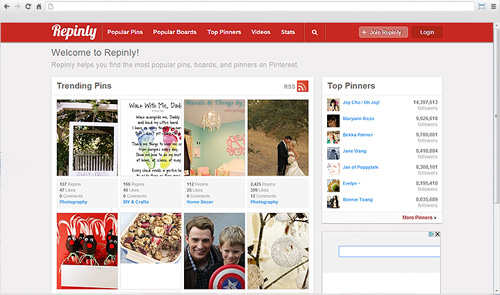 Repinly is a directory showing the most popular pins, boards, and pinners on Pinterest. It is a useful tool for brands because it can give an insight into the best way to reach their target audience. By looking at the most popular pins the brand can see what sort of content is liked and repined the most and can create their own pins accordingly with the hope of it going viral. The most repined post on Pinterest, a recipe for garlic cheesy bread, has over 100,000 repins so the potential of reaching a much wider audience is there for the picking.
There is also a handy stats page which displays general information on the most popular categories, top 10 pinners, top pinning sources and etc in clear to read graphs and charts, although, it doesn't seem to be updated very often.
Analysing your campaigns

Google first introduced their Social Reports within Analytics in its beta form back in March 2012. Since then they have become a permanent part of the Analytics package with new features recently introduced for tracking Data Hub Activity (a hub for many different bookmarking sites such as Delicious and Reddit) and Trackbacks (links added to social sites which refer back to your site).
Some of the more interesting sections of the social reports are the Network Referrals, Conversions and Plug-ins. In the Network Referrals section you will see all the different social sites people have followed links from. You may be surprised by some of the more niche ones that are linking through to your site.
The Conversions section shows which of these links are actually converting on your your site and where they are coming from. This is where Google Analytics comes into its own because your website is already being tracked for conversions it can then relate your social engagement to these, unlike other free tools.
The Plug-ins section is for your onsite social engagement where you have buttons for Facebook "Like", Google "+1" and others. This allows you to analyse which of your pages or products are getting the most response socially and so, in response, can promote these more than others.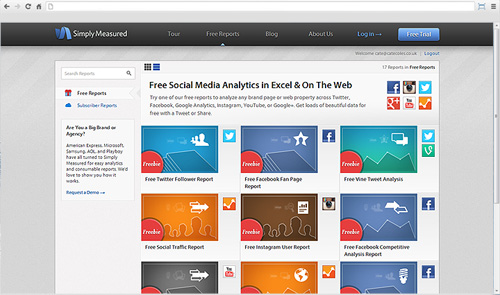 Simply Measured is a paid for service which offers all sorts of analytical data for social sites like Facebook, Twitter, Google+ and etc. However, they offer a whole host of free reports which you can request by simply providing them with your profile name for the relevant site and agreeing to like them on their profile or post a status.
While there is a range of social site analysis reports available, there are several specifically geared towards Facebook. These can give you even more analysis than the free Facebook Insights tool built into your Facebook fan page. The Facebook Competitive Analysis Report is useful for seeing how your company measures up to your competitors and their fan engagement.
Once your report has been emailed to you, it can be downloaded either as an Excel report or Powerpoint presentation. This provides useful data in a well-presented manner that can be used for reporting or presenting to others.
---
Is there a free tool you use to manage your social profiles? Why not leave a comment below to let others know about it?