Featured Shop: Meechs Menswear

Thursday, 5 September 2013 | Cate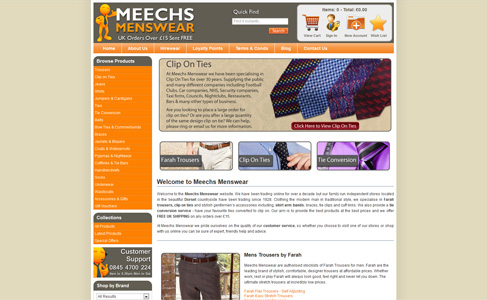 Contact: Andrew Meech
Email: info@meechs.co.uk
Telephone: 0845 4700 224
Website: www.meechs.co.uk
The Meechs Menswear website launched back in 2000. Since then we have received over 20,000 orders and continue to gain momentum. Clothing the modern man in traditional style, we specialise in Farah trousers, clip on ties and stylish gentlemen's accessories including, shirt arm bands, braces, tie clips and cuff links. Our aim is to provide the best products at the best prices. Four Harry Potter films have featured Farah clothes brought over the internet from the Meechs Menswear website.
The business was originally founded by my Grandfather, who opened our Weymouth store back in 1928. Since then we have continued to prosper and remained in the family through three generations maintaining a prominent trading position in both the local market place and on the internet.
What were your reasons for starting an online shop?
From a very young age I have been immersed in the world of information technology and website building. So back in 2000 when I joined the family business I was intent on developing a web-based trading channel. I was certain this could increase our turnover exponentially as the type of gentlemen's attire we stock is not found on every high street.
I had seen the likes of Amazon and eBay do increasingly well during their first few years and knew that internet shopping would grow bigger and bigger and reach audiences further afield.
What were your reasons for choosing Bluepark?

I took a lot of time to research ecommerce companies before making a choice, since I understood that the ecommerce platform plays a huge role in our customers' experience and my company's success. Making a success of online retail is not just about having a good looking website with dynamic technical features, it's also about building a relationship with your customers.
I spent over a month looking at every ecommerce solution available, Bluepark stood out from the other ecommerce companies because of their very competitive pricing and being incredibly feature rich. Also their huge amount of positive reviews from happy customers on Trustpilot helped confirm they were the right choice for our ecommerce solution.
Did you design your site yourself or did you use an external designer?
Our Bluepark website has been designed and developed in house with help from the very talented Cate at Bluepark on hand to offer advice and help as we built up our development site. Bluepark's ecommerce platform is very intuitive and easy to use especially if you have used other ecommerce platforms. Their forum has also been a very useful resource in finding answers to lots of my questions during the development stage.
How did you find the process of setting up your site on Bluepark?

Bluepark is very intuitive and easy to use especially in you have used other ecommerce systems or have a basic knowledge of CMS websites. After using Bluepark you soon start to realise how poor your last ecommerce package was, and overly complex to do simple day to day tasks.
Have you seen your online business grow since moving?
We went live with Bluepark in April 2013 and since moving our website orders have definitely increased. Our return customers are delighted with the Loyalty Points Scheme we introduced when launching our new Bluepark website, it's been an instant success. Also the customer reviews system is incredibly good with its Google Rich Snippets making our organic Google results standout from our competitors. Also being able to filter products by size, colour, style etc has made the site navigation much easier and quicker for our customers.
Do you have any advice for anyone starting an online business?
Be prepared to put in a lot of work, time and effort into your store. At Meechs Menswear we pride ourselves on the quality of our customer service, you can be sure of expert, friendly help and advice. Customers will tell a lot of people about you and your company, if they have a good or bad experience. Do everything you can to make your customers happy even if something has gone wrong that was out of your control and your business will prosper. Remember the customer is key, without them we wouldn't be in business!
We would love to feature your online shop next month. Please contact sales@bluepark.co.uk to find out more.