How to: Offer Your Customers a Powerful Product Finder or Gift Finder

10 Comments

Tuesday, 9 April 2013 |

Cate
Skill Level: Intermediate
The Product Finder is a very powerful tool if you sell the type of product that is defined by specific criteria, such as Make, Model and Part, as it allows the customer to narrow down to the products they want to purchase without even leaving the homepage. This reduces the number of clicks a customer has to go through to be presented with the relevant products. It doesn't have to replace your current navigation structure, add it to your site to enchance the user experience for your customer. Remember, not every customer wants to browse through hundreds of categories, many just want to find what they are looking for as quickly as possible.
Common industries who use this function are car manufacturing parts, printer ink cartidges and mobile phone accessories. However, this feature can also be used as a Gift Finder if you sell products that aren't necessarily self-purchases.
Setting up your fields
In the Product Finder choose the number of fields you want to have in your filter and name them. You must set them in the order of how you want the customer to filter to find the product they want. For instance, to find a car part you would want to set the 'Make' first, followed by 'Engine', then 'Model' and finally 'Type' to give you all the parts for Audi, Diesel Turbo, A2, 1.4 TDI. You may want to take the filter one step further and create your final field as 'Part'.

You can include an extra field which filters on the Categories too by ticking 'Include category field'. This will place the Category field before your first one, in this case 'Make'.
Setting up your filters
Click on the Create New icon and a new Finder Row will appear underneath your fields. You need to type your filters into each relevant field within the Finder Row. These are the actual options the customer will select from the drop-down fields so that they are presented with the relevant products. You will need to repeat this for every filter you want to create. Below you can see the filters set up for three part types for two different Audi A2s.

Adding your products
Once you have created a finder row you will need to add your qualifying products. Click on the Edit icon and then Browse. You will be able to search for the relevant products that have already been created in the Product Manager. Tick the products you want to add to this filter and click on Add Selected. Finally click on Assign products and Save.

Adding filters and products in bulk
It is far easier to create all of your finder rows and assign all of your products via an import than to do them manually. Once you have manually created your first row and added at least one product to it you can export this to see the format your import needs to be in.
To create your export click on the Generate CSV
icon and the system will run through the database to create your file. Once the process has completed a green Excel icon will appear at the top of the page which you will need to click on to save the file to wherever you wish on your computer.

Add to or edit your CSV. When you are ready to upload it click on Browse, locate your file on your computer and press Go. Only have the 'Wipe' field ticked if you want to remove all the data that is already within the Product Finder.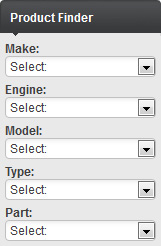 Adding the Product Finder to your website
Now you have all the data set within the Product Finder, you will need to add the Product Finder to your website so your customers can benefit from it. This is done in the form of a block which has several options you may want to change by going to Design / Layout > Content Blocks > Product Finder.
There are two ways to add a block to your site either go to Design / Layout > Page Layouts and assign it to the layouts you want it to appear on or go to the front end of the website and assign it to the page type you want it to appear on using the EasyEdit bar across the top of the page.
You can view the Product Finder in action on our client's sites - www.printright.co.uk and www.more-bhp.com.