How an integration with roseta.io can save you time and money
2 Comments
Tuesday, 17 November 2020 |
Guest
roseta.io is a cloud-based integration solution that connects all of your key ecommerce systems. We sync up two or more applications to automate repetitive tasks, free up personnel time, and drive more sales. Our simple yet effective solutions are tried, tested, and monitored, so once you're up and running they work seamlessly in the background.
Integrating Bluepark with your ERP enables you to manage all of your resources in one place with minimal hassle. Providing around the clock support that doesn't just stop after set-up, you can count on our friendly UK team to support you.
Why you can count on roseta.io
Why integrate Bluepark with your ERP systems?
An integration automates those little-value-added tasks that can be time-consuming and overly monotonous. The most obvious benefit is on reducing workload and removing room for error when duplicating data in multiple systems. Integrated data is updated in real-time and readily accessible, so valuable stats can be extrapolated to provide greater insight into company and market opportunities. Updates on orders, customer returns, stock levels, and shipment are instantly accessible to multiple departments improving communication between teams and providing management with essential oversight.
How will an integration save me time and money?
There are numerous benefits that come with integrating your online shop with Roseta's Cloud-Based Integration Platform including:
Mitigating human error and data duplication
Instant access to reliable data
More efficient sales order processes that improve customer experience
Better communication between team members and departments
More time to focus on customer service and business development
What does a Bluepark to Xero integration do?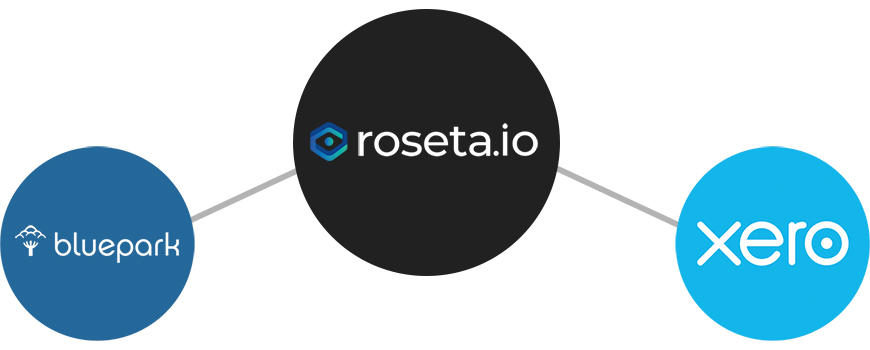 Let's use a Bluepark to Xero Accounting integration as a hypothetical example. The days of paper accounts are far behind us but many ecommerce companies are still using outdated accounting processes and procedures. Even if the accounting software you use is a high tech app such as Xero, the way that data is updated, transferred and utilised has a significant impact upon efficiency, business procedures, accuracy and insight.
Mistakes resulting from manually inputting and transferring data can be costly to both company reputation and finances. Delays in order processing, payment for stock, or customer reimbursements are all too familiar human errors within accounting departments. Our solution is a simple integration that enables real-time data transfer between two or more systems, creating a continuous flow of information that can be accessed from all departments.
Using our Bluepark to Xero integration example, for the accounting team, this means removing the need to manually set payment reminders or repeatedly flick between Bluepark and Xero to update stock levels or order status.
Why choose roseta.io?
Quality assurance guaranteed
Unlike many other software companies, roseta.io is a UK based company with a team of expert developers that have been building integration solutions from scratch for almost 10 years. We established ourselves as a sister company to New Vision in 2020; our pioneering solutions and key integration development team came with us. We provide trusted ecommerce solutions for all of your key technologies.
Friendly UK team
Our mission is to make integration simple by providing pre-built, tried and tested application connectors that are secure and keep your data safe. Our off-the-shelf solutions provide a technical service, but it's the level of customer care and ongoing support that make us stand out from the rest. We understand that just because you have an ecommerce store does not mean that you understand the technical side of things. We take time to understand your requirements and explain the value an integration will bring to the overall prosperity of your company.
Scalable pricing plans
Pay only for what you need with pricing plans that are based upon the volume of messages sent. A message is essentially an automated task triggered from one system to another. All of our messages are less than 1p and the more you use, the cheaper it gets. We are transparent and flexible with our pricing, allowing you to upgrade and pay more only when you need more.
Transparency
For those that are tech savvy, we provide a complete overview of all data transfer with a user-friendly dashboard that offers complete control to play, pause, and decide what data is transferred. Our integrations are automated 24/7, 365 days a year. We recognise that every business is different and our advanced mapping tool allows you to integrate your specific data from A to B.
Our most popular Bluepark integrations
Click below to see our most popular integrations already being utilised by Bluepark users and see how roseto.io can streamline your business.
Bluepark to Xero integration
Bluepark to Khaos Control Cloud Integration
Post written by roseta.io