3 Comments
Thursday, 5 March 2015 |
Cate
We all know the standard homepage layout of left hand menu, slideshow banner at the top of the centre column, followed by a block of featured products and a welcome message. This has become the norm for many ecommerce websites but sometimes itís good break from the mould and try something different. Find out how to create three different layouts to use on your online shop.
1 Comment
Thursday, 15 January 2015 |
Cate
Skill Level: Beginner
Every Bluepark site comes with a built in slideshow feature that can be used to create rotating banners on the homepage, as well as on a multitude of other pages. When you start to build your site you will see this feature being used on the homepage with a two image slideshow presented at the top of the main content.
Find out how to create your own slideshow to add to your homepage, as well as how to add unique slideshows to different areas of your online shop with our helpful guide.
15 Comments
Wednesday, 10 December 2014 |
Cate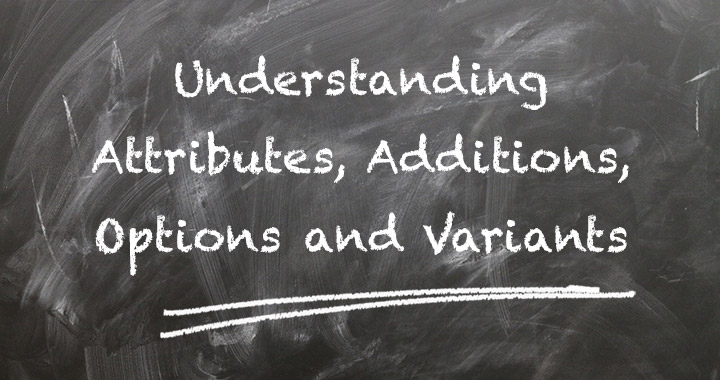 One question we get asked a lot is what is the difference between Attributes, Additions, Options and Variants and how they are supposed to be used. These features are very helpful when creating your products and can give added definition that can be both beneficial to you and your customers. However, they can be quite confusing when you first start and can often be called different things by other ecommerce software providers, so we've put together a guide to explain just how each one is supposed to be used on your Bluepark online shop.
Friday, 29 August 2014 | Cate

Youíve decided what products you want to sell on your new online shop and have taken, or have been supplied with, photographs of all of them, but what now? How do you go from a collection of photographs to actually having people purchase them online?
Skill Level: Beginner
Tuesday, 17 June 2014 | Cate
One of the most important things an online business can have is the right domain name. If you donít already have one it can be a hard decision making sure you choose one that is relevant to your business. A domain name should be short, easy to remember and be instantly recognisable. As a business it is always advisable to have one that includes the company name so that it becomes part of your brand. Once youíve made your decision, there are a few things you need to know before going live with your website.
Tuesday, 20 May 2014 | Cate

We've just released one of our biggest features to date - fully optimised mobile templates for your ecommerce website. This allows you to target mobile specific customers with a much more refined and easy to use mobile version of your website. Find out how to make your Bluepark website fully optimised for mobile and, in turn, increase your conversion.
1 Comment
Friday, 11 April 2014 |
Cate

The majority of social sites have their own widgets that can be placed on your website. A widget is a small application created by the social site and added to your website to display something related to your social profile. All social widgets can be added to your website either as a block or within page content but the code must be placed within the Source otherwise it won't work. Learn how to add social widgets to your website with our easy, step-by-step guide.
Skill Level: Beginner
Wednesday, 9 April 2014 | Cate

If you have set up a Facebook page, a Twitter profile, a Google+ page, or any other social profile, you will want to make sure your website customers know where they are so they can interact with you. The best way to do this is to add social icons into your header or footer so that they appear on every page of your site. Learn how to add social icons to your website with our easy, step-by-step guide.
Skill Level: Beginner
3 Comments
Tuesday, 8 April 2014 |
Cate

We all know how important social media sites have become to the ecommerce industry. We're constantly told to set up a Facebook page or update our Twitter feed regularly but what about your actual website? How do you direct the people who visit it to interact with you on social media or drive your social media followers to actually purchase on your website? The answer is social share buttons, icons and widgets. Learn how to add social share buttons to your website with our easy, step-by-step guide.
Skill Level: Beginner
1 Comment
Tuesday, 4 March 2014 |
Cate
Following on from our How To: Enable Your Products To Be Listed On Google Shopping guide, our latest post shows you how to upload your product feed to Google. Learn how to create a manual or scheduled upload so that your products are kept up to date on Google Shopping.
Skill Level: Beginner