Simplify, manage & grow with the PayPal Commerce Platform
PayPal's all-in-one platform allows you to get setup quickly, straight from your online shop's admin panel. Offer PayPal Checkout and PayPal Pay in 3** directly from your checkout to entice new customers in the UK and around the world.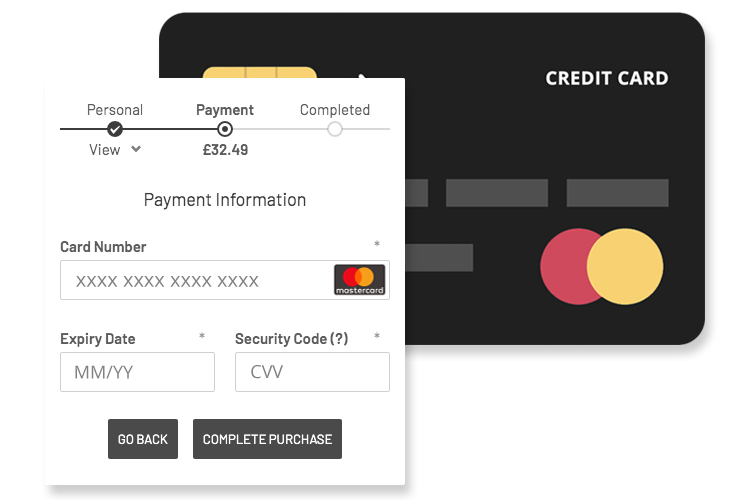 Integrated card payments
Accept debit/credit card payments directly on your website and automatically display the customer's card type for added assurance.
Smart checkout buttons
The built-in Smart Buttons allow you to change the colour and shape of the PayPal Checkout button and automatically resize to match the standard checkout button.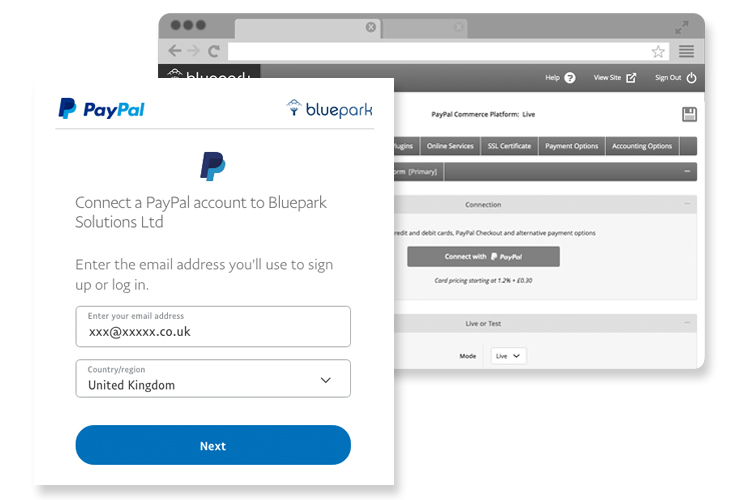 Quick and easy setup
Sign up for your PayPal Commerce Platform account directly within Integrations in your Bluepark admin panel and get set up quickly all in one go.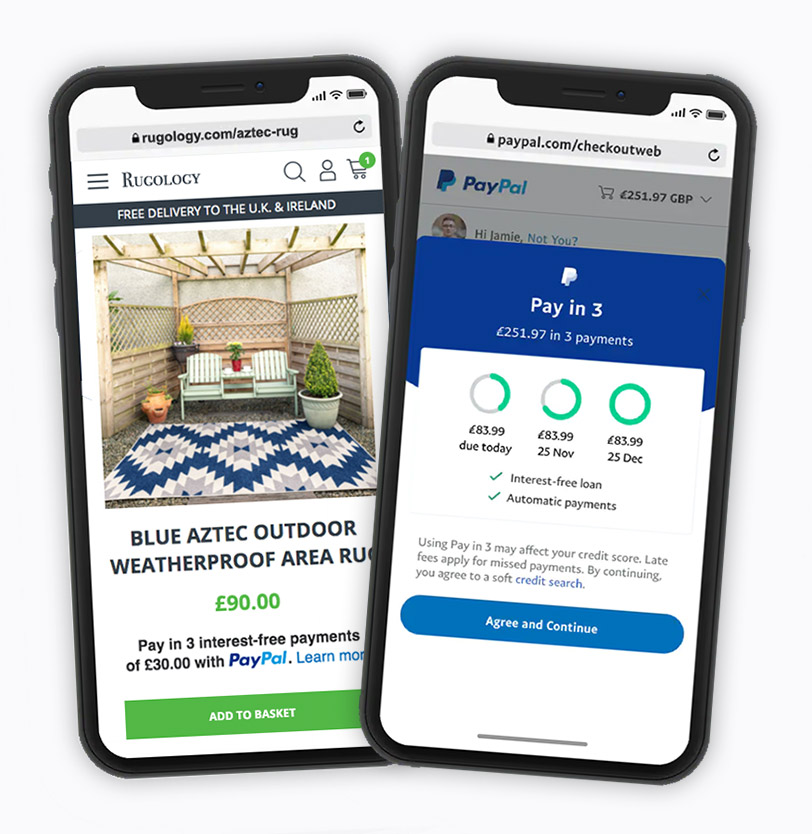 Offer PayPal Pay in 3
57% of consumers are more likely to make a purchase on an online shop that offers interest-free payment options.* Therefore, PayPal now enables you to offer customers the option to buy now, pay later with Pay in 3.** Promotional messaging can be displayed on product pages for purchases between £30 and £2,000 to help increase conversions.
Interest-free instalments
Customers can easily spread the cost of purchases over three payments with no interest or set up fees. Once the customer completes their order, PayPal pays you upfront and takes care of collecting payments from the customer on the agreed dates.
Seamless and instant
Pay in 3 is included at no extra cost as part of PayPal Commerce Platform. Once you've connected your account within your Bluepark admin panel, customers can simply choose Pay in 3 during checkout without having to wait to see if they're approved.
Fight fraud and simplify compliance
PCI-Compliant
PayPal Commerce Platform simplifies your PCI compliance requirements, only an SAQ-A is required.
PSD2-ready
Automatically compliant with the new PSD2 rules being introduced by the EU in December 2020.
PayPal Seller Protection
Take advantage of PayPal Seller Protection for Merchants on eligible purchases.***
Advanced fraud tools
PayPal Commerce Platform keeps you safe using real-time intelligence and adaptive machine learning.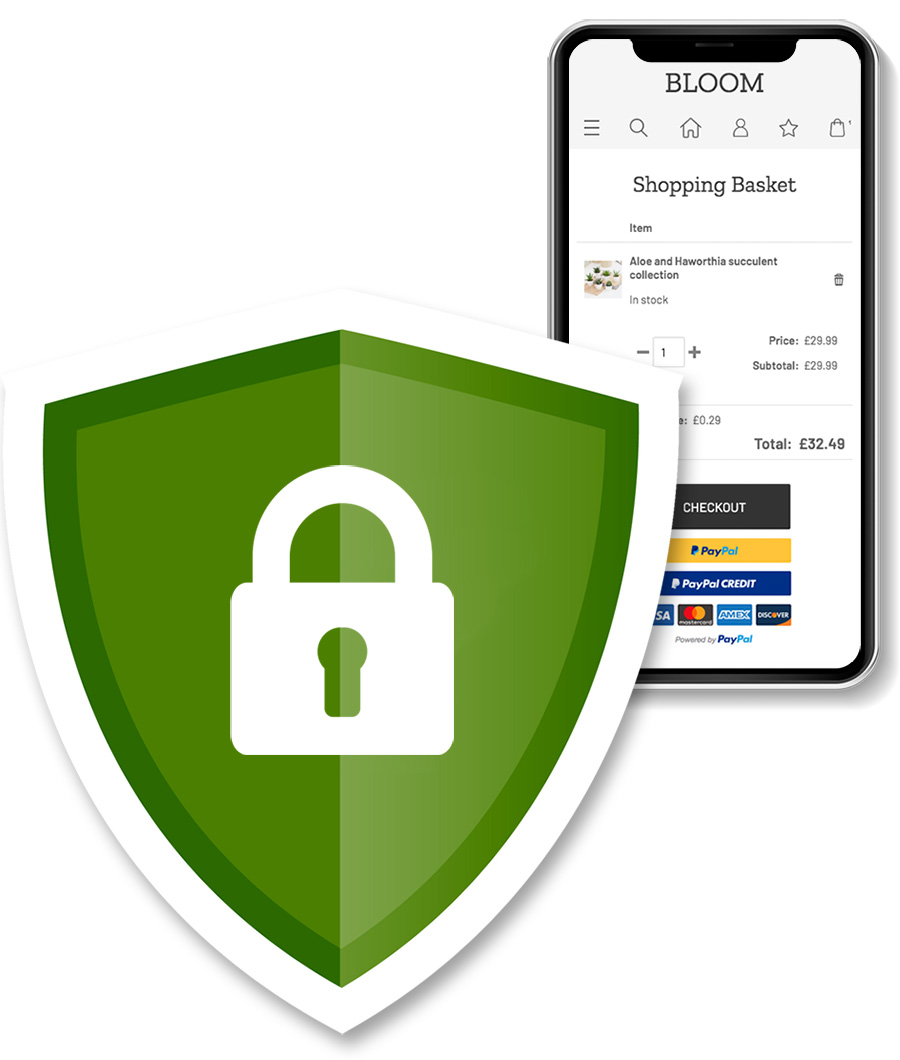 PayPal Commerce Platform pricing
In order to use PayPal Commerce Platform you will need to sign up for an account, which you can do by clicking the Connect with PayPal button in Integrations. All transaction fees are agreed and paid through PayPal and are outlined below. Bluepark does not charge transaction fees.
UK
France
Italy
Spain
Credit Card
1.2% + £0.30
1.2% + €0.35
1.2% + €0.35
1.2% + €0.35
Local payment methods (APM's)
1.2% + £0.30
1.2% + €0.35
1.2% + €0.35
1.2% + €0.35
PayPal
2.9% + £0.30
2.9% + €0.35
3.4% + €0.35
2.9% + €0.35
American Express
3.5%
3.5%
3.5%
3.5%
International fees
Eurozone: +0.5%, Rest of the world: +2.0%
Try Bluepark for FREE for 14 days
Full access to everything including our support team, no card details required