Transfer Your Online Shop to Bluepark
Make the switch with no disruption to sales
It could be that you already own a website which is not yet configured for ecommerce. Or it could be that your existing online shop would benefit from the usability, speed and finesse of Bluepark's ecommerce software. It might even be the case that you're spending large sums of money, unnecessarily, paying a third party to update your site content.
We recognise that it can be a daunting prospect to transfer a site from one web hosting provider to another. Many people choose to remain with outdated, slow and unmanageable systems because they don't have the time to focus on making a change, or the idea of moving is just too scary. Bluepark's website transfer service enables you can get on with the day to day running of your business and let us do the vast majority of the work for you.
In just a few simple steps we can help you achieve a truly hassle-free migration over to a fast, constantly updated and easy to use ecommerce software solution, and here's how it's done.
Sign up for a free trial

The first thing you need to do is sign up for our 14 day free trial. We never ask for anything other than your name and e-mail address in order to send your login details. Requesting a free trial will enable you to evaluate Bluepark's ecommerce software to ensure it is a good match for your business. It will also provide you with a development environment from which you can start building your new online shop without compromising your existing one.
Export your product data
Unless you want to add every product to your Bluepark site by hand, it is imperative that you extract your product data from your existing online shop. Ideally this will take the form of an Excel spreadsheet or CSV (Comma Separated Values) file. If this is not possible, a TXT file or XML file can usually be converted into a CSV file.
Setting up on Bluepark was very easy and straightforward, especially as Bluepark staff were available, whenever I called, to instantly answer any questions. The transfer of data was also very easy. Our site is now super-fast and we have seen a noticeable increase in sales and conversion.
-- Matt Heenan, Lucy Rose
Import your product data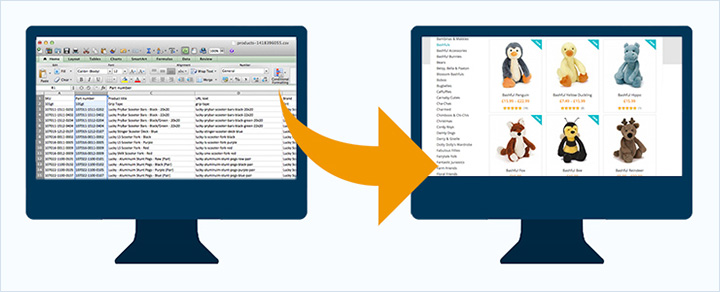 You may prefer to import your product data into your Bluepark site yourself. If so, we highly recommend that you read our How to: Import and Export Products using a CSV article before you do. This will help you understand the Bluepark product importing and exporting features in more detail.
Alternatively, we offer a comprehensive service to do this for you. We would need to see a full product and category export from your existing site, preferably in the form of a CSV file, before we are able to provide you with a quote.
Bluepark is great for every level of business, in every type of industry, and it's not just for computer geeks. Even people with little or no experience of selling online are able to get products listed within a few minutes.
-- Sam Speed, Evo Roofing
Transfer your design, look and feel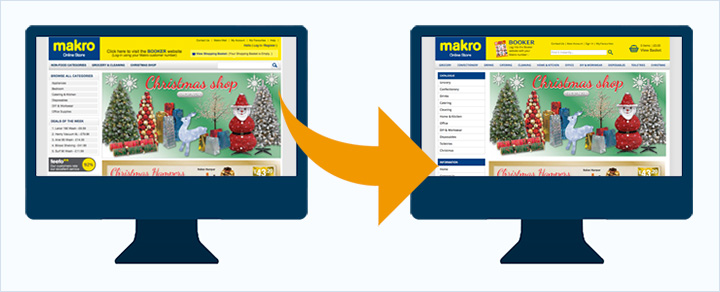 If you would like to retain your existing website design, but also enjoy the benefit of Bluepark's many features, then let us take care of the transfer for you. Just let us know your current website address and we'll give you a quote.
Alternatively, you are able to create your own design using our flexible template management system. You don't need any HTML or CSS knowledge to create a template, just the understanding of how a website is structured on the page. However, for anyone possessing these skills, there are also many more advanced options available to use.
We found the transfer service to be very simple to use. Everything was done for us so that we could get straight on with putting the finishing touches to the website. It saved us a lot of time and was very cost effective.
-- Wendy Richards, The Nappy Lady
Create redirects for your pages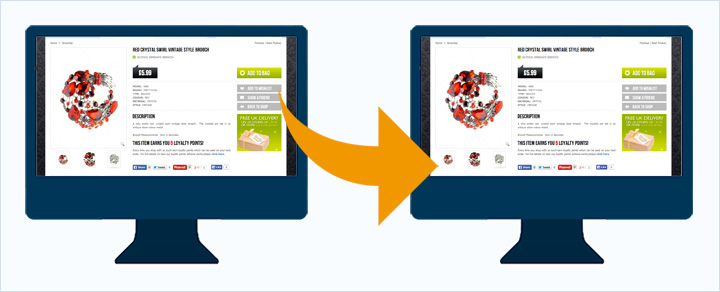 When transferring to a new ecommerce platform, it is likely that the URLs of the pages on your site will change. If your current site is well established in Google, having pages with good rankings for your key search terms, you will need to let them know where these pages have gone. This must be done using 301 redirects.
You are able to create 301 redirects yourself, one by one, within the Bluepark system. At the very minimum, this should be done for your highest ranking pages, though preferably for all of your pages.
Alternatively, we offer a comprehensive service to do this for you. We would need to see a full product and category export from your existing site, preferably in the form of a CSV file, before we are able to provide you with a quote.
We had a very serious issue with our existing provider, so migrating over to another ecommerce platform was going to have to be swift. Bluepark worked above and beyond to ensure that the site was transferred with all of the necessary changes made.
-- Marie O'Donovan, JellyBean Group
Complete the process and go live
Once you're happy with everything, we advise that you have a read of our 10 Step Checklist Guide to Going Live with your new Bluepark website. This will ensure that you don't miss out any crucial steps before making the final switch.
Simply by altering the primary and secondary name servers for your domain name, via your registrar, your customers will begin to experience the unique benefits of your new Bluepark site. No down-time, no service outages - just business as usual throughout the entire process.
Bluepark took all of the worries away from me and made a copy of my site, loaded all the products, images etc. and dealt with the technical side of the transfer. The end result was a very smooth transition across with no stress for me, and now I have a far more functional site than I previously had.
-- Ceri Bryans, JitPak