Connect eBay to your online shop
Reach eBay's 182 million shoppers effortlessly from your online shop with the industry's most comprehensive built-in integration.
List and update your products, sync your stock, receive and process your orders, all via your Bluepark website's admin panel.
Already using Bluepark? Connect to eBay now
Change the price
Compete with eBay sellers in terms of price, add on a little extra to cover your seller's fees, or target non-UK eBay sites by setting alternative eBay pricing that's different to your online shop's pricing.
Alternative product information
Target your eBay customers with alternative product titles and descriptions to what displays on your online shop to ensure that you are reaching customers in the most effective way possible.
Centralised stock management
Save time and effort by taking control of your stock management on eBay and your online shop without the need for third-party software.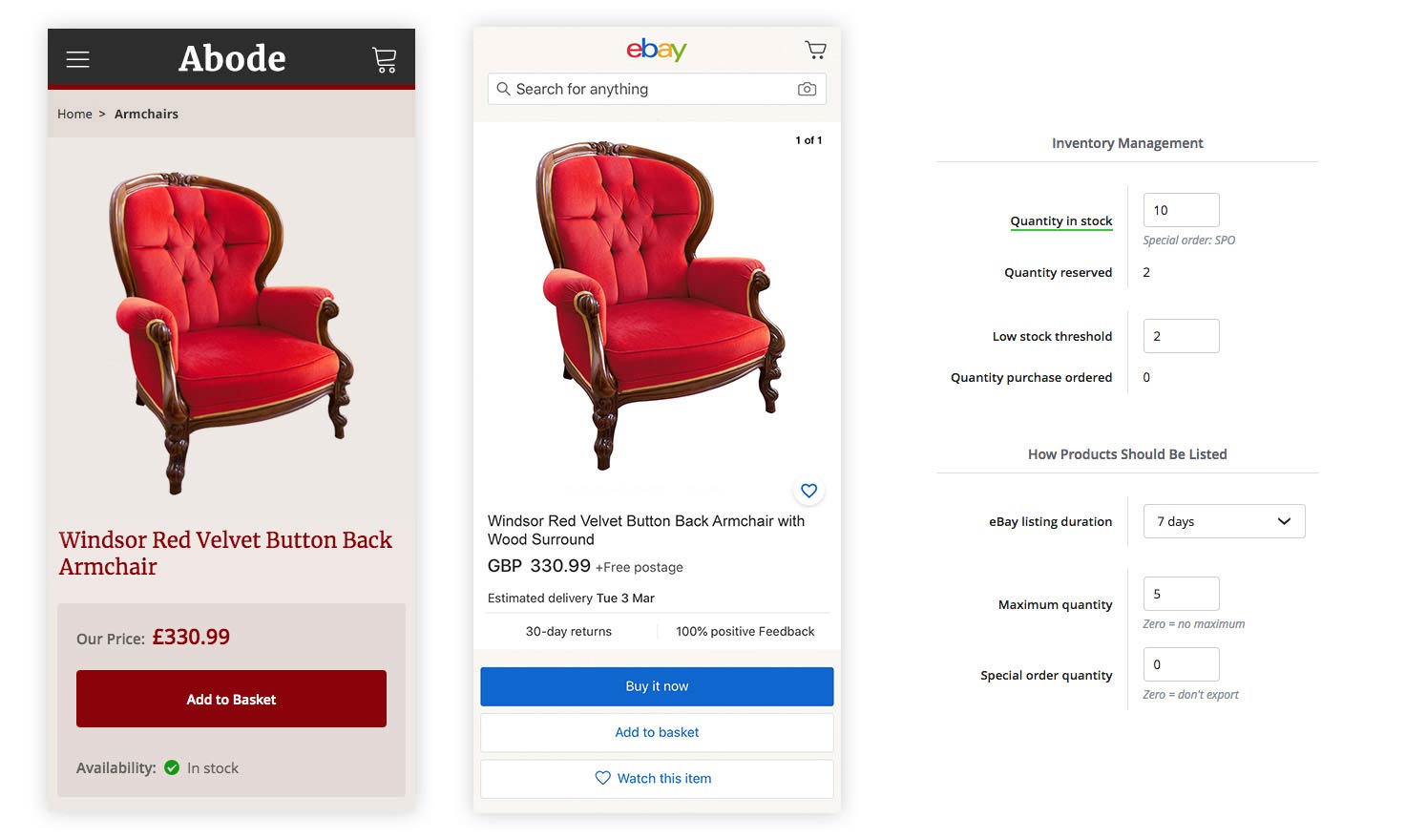 Sync stock seamlessly
Our two-way, automated real-time stock management updates all channels whenever you make a sale, eliminating overselling.
Stay informed & restock
Receive low-stock notifications to let you know when you're running out. Easily reorder with our built-in Purchase Order system.
Control your stock
Choose which products you want to sell on which channel and control how much stock of each product you want to send to eBay.
End listings automatically
Enable eBay listings to end when stock runs out or save time and money by keeping listings live until you decide to cancel them.
Improve Your Service
Save time and reduce human errors by picking and packing all online shop and eBay orders together to create a single picking list and set of despatch notes.
Consistent Branding
Avoid confusion by setting alternative eBay specific branding, contact information and invoicing that's automatically used for all eBay orders.
Bluepark's eBay integration enables you to harness the power of eBay's online marketplace without having to worry about the complexity involved with selling on multiple channels. There's no app to plugin or pay extra for, our fully-featured eBay integration is available immediately on our Enterprise package. Start selling today!
Try Bluepark for FREE for 14 days
Full access to everything including our support team, no card details required