25 Killer ideas for content rich blog posts on an ecommerce website

8 Comments

8 January 2015 |

Cate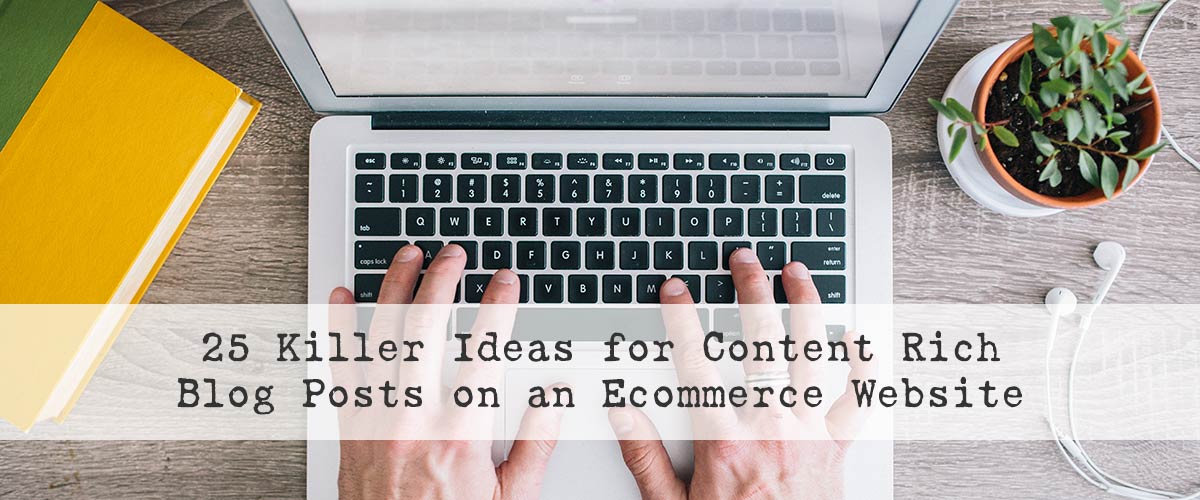 According to the 2014 Ecommerce Benchmark Study by MarketingSherpa, on average, only 30% of ecommerce merchants used content marketing as a part of their marketing mix. This is a surprising figure when it is a well known fact that more quality driven content pages increase search engine presence as well as encourage more people to interact with a website.
Google, in particular, loves regularly updated content and these updates can only be achieved in three ways on an ecommerce site:
Product Pages – updating and adding new product pages is an easy way for an ecommerce brand to add new content
Information Pages – this could be in the form of contact us, terms and conditions, privacy policy and etc, as well as landing pages
Blog posts – regularly posting to your blog allows you to add interesting content about your business, your products and your industry
So, why are there so many online shops out there not utilizing their blog to drive traffic? We often hear comments like 'I'm not a writer' and 'I can never think of what to write about'. Neither of these of things should ever stop you and we'll tell you why.
"I'm not a writer"
We'll let you into a little secret, you don't have to be! Most blog writers, whether they are professional, hobbyists or online shop owners, didn't start out thinking 'I know I'm going to write a blog because I can write'. No, the majority will tell you that they started because they were passionate about their chosen subject.
This is what you need to focus on.
It is so much easier to connect with an audience if you are passionate about the same thing and if you write from the heart people will respond to it. Just remember to always use the spelling and grammar checker!
"I can never think of what to write about"
Really? Well, how about taking a few suggestions from the 25 blog post ideas we've put together below?
The 'How To' post

Teach your readers how to do something related to your products. If you sell craft supplies show them how to create something using your products. If you sell clothing show how to create five different outfits with one common item. Or if you sell photography equipment teach them how to take a really amazing photo with the simplest of settings.

Create a list of recommended books to read relating to your products

People love to become more knowledgeable about their passion so tell your readers about the books you love and have found most useful. And if you have an Amazon Associates account you can use this to create a little bit of extra income. Just remember an ethical tactic is to have a disclaimer at the end informing your readers that the post contains affiliate links.

Tease your readers with up-and-coming products you are currently working on

Your loyal customers will love to see the new products even before they are available to buy and it is a great way to spark people's interest in you. If you design your own products show your sketches or give examples of the materials you are using. Remember it's all about the tease, so don't show the complete product.

Host a giveaway

Everybody loves a freebie and you'll be surprised by how many people will work for it. Sign up for Rafflecopter and utilize the free options such as 'Leave a Blog Comment' and 'Follow Us on Twitter'. This will encourage more of your readers to actually interact with you, but don't waste this opportunity, once the competition is over make sure you keep interacting with them.

Ask a loyal customer to review a product

You don't always have to be the one writing the post; ask one of your most trusted and loyal customers to write an in-depth product review for you. Offer an incentive by giving them the product for free or even a gift voucher for a future purchase. Potential customers love to hear what other customers think of your products.

Let your readers experience a day in the life of you

Obviously, they don't want to know what you had for breakfast, but be honest, if you're rushing around with the kids in the morning before starting on last night's orders tell them. Keep it light, with a touch of humour, and make sure you don't end up moaning the whole way through. No one wants to read about how rubbish your day was!

Solve a problem with one of your products

Do you sell one of those 'I can't live without' products? Then make sure you tell your customers about it. Explain how it helped solve a problem in your (or a customer's) life. Perhaps it is something that can be used for a different purpose other than what it is intended for or maybe it helps to save you time each day.

Go behind the scenes

It's amazing how many people don't know about all the things an ecommerce retailer has to do to make their business successful, so let your readers learn more about it. You'll be surprised at how many find that dull, mundane task of working out your shipping costs really interesting! Use pie charts and graphs to explain things better and remember to keep it entertaining with a sprinkling of humour.

Top Tips

Creating a list of helpful tips relevant to your products will show your readers just what an expert you really are in your field. If you sell lingerie give them tips on the best way of taking care of it. If you sell DIY products give them tips on which type of screw is best used for which type of project. Or if you sell pet care products give them tips on adopting a rescue pet.

Tell them how fabulous you are!

A little bit of self-promotion is never a bad thing. If you've achieved something you're really proud of write about it. It could be something as simple as reaching 1000 followers on all of your different social media sites (remember to say thank you, you couldn't have done it without them!) or as big as winning an industry award.

Highlight launches, sales and important events

It's always important to inform your customers of things happening on your website such as new season products, sales and other promotions. You may already do this by sending out an email newsletter and via social media but creating a post about it each time can make sure you reach a wider audience.

Be controversial

If you don't agree with a particular aspect of your industry create a post about it. Be argumentative, but don't rant, moan or be overly negative. State the reasons for and against the issue and why your way of thinking is best.

Show your process

Create a series of posts showing how a product goes from concept through to production, photography and finally being posted on the website. Creating several posts showing a journey will keep people coming back each time you publish a new post.

Ask an expert in your industry to write a guest post

No matter how much we think we know about a particular subject there is always someone who has more knowledge than you. Find others in your industry that can give advice on subjects that you feel are your least explored areas. You may then be able to offer your expertise in another area on their blog.

Recap your year of blogging

This is always a great way to introduce new readers to old posts. Create a post that incorporates links to the best and most read posts of the past year. This shouldn't just be a long list of links but rather a journey of how you came to write them. These sorts of posts are great to publish between Christmas and New Year, when a lot of other blogs go silent, or when it is your blogiversary, the date each year from when you first started blogging. And yes, it is a word!

Encourage your social media followers to get involved

Choose a product or a particular area you specialise in and ask your Facebook and Twitter followers to give their opinion, then put them all together to create a blog post. Alternatively get them to post a photo on Pinterest or Instagram that highlights your products or how they use them. Always remember to create a hashtag that they can use so you can keep track of each one. You can even add an incentive. Try something creative such as if you get 100 photos with the hashtag you'll offer a discount code on that particular social site.

Feature the people you work with

If you are a one-man-band this may be a little bit tricky so try to think of someone who encourages you most. This may be your partner or a parent or even your best friend. Either way, put some questions together to get them talking about what they do as a job or how they inspire or help you to achieve a successful business.

Write a post about how you got started

It may be that your business has grown from a hobby or from something you studied at college. Wherever your passion was sparked, start from the beginning and explain how this seed grew into a full blown online business.

Do a follow up post

This is another great way to get new visitors interested in older posts. Find a popular post you've done in the past and think of how you can revisit the subject. Call the new post 'part 2' or create a series from it. However you do it just remember to link back to the old post.

Turn your FAQs into a post

Do you get asked the same question over and over again? If so, turn the answer(s) into a post. If it relates to a particular product, category or brand make sure you link to the post from these pages. This will help to reduce the number of people emailing or phoning you to get the answer.

Create a free resource

A free resource that people can download from your site will encourage readers to share your post on social sites. People just can't resist a freebie, but be creative. If you sell cake-making supplies create an easy to print recipe. If you sell gardening products create an infographic about which vegetables to sow at what time of the year. Or if you sell fancy dress clothing design a collection of theme based party invitations.

Do a reader survey in one post and collate the results in another

Finding out more about your readers/customers is always a great way to improve on your products and services as well as a way of getting them to engage with your brand. All Bluepark customers have the User Poll feature built in which makes it easy to create an option-based survey. Visualise your stats in creative and interesting ways within your results post to help people understand them easily at a quick glance.

Write a trend post

Every industry has trends, although some are more obvious than others. If you attend trade shows you're likely to pick up on these trends before they hit the shops, so blog about them in advance. Even if you aren't able to spot these trends in advance, it is always best to create a post when you do become aware of them, making sure you feature any of your products that relate to it.

Share where you get your inspiration from

If you produce your own products this will be easy as you're bound to have scrapbooks, files on your computer or even boards on your Pinterest profile where you gather this kind of information. If you buy your products in there's always a reason why you decided on those particular ones. Inspiration can come from anywhere so include images, links to other blogs, videos and anything else you can think of.

Create an ultimate guide (or killer list!)

This is where you can really show off your knowledge and expertise about a chosen topic in your industry. Don't hold back; make it as in-depth as possible with examples as well as visuals. Really show off what you know!