Why you shouldn't ignore unfinished orders

1 March 2016 | Cate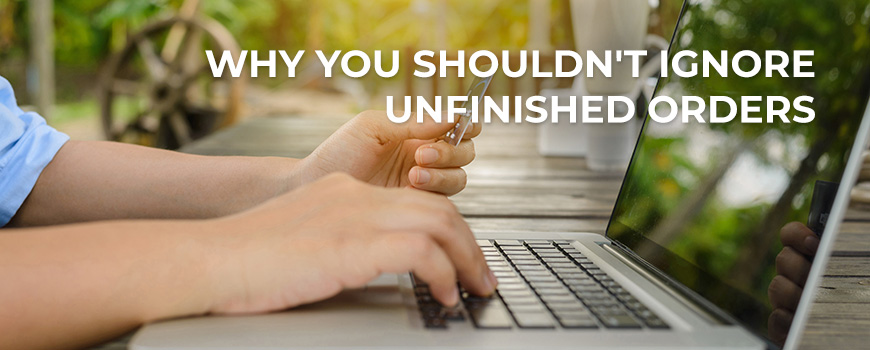 One very important section of the Bluepark admin panel that people often miss is Unfinished Orders, which can be found within the Orders menu. This section is exactly what it says, in here you will see orders that are currently in progress. In the Bluepark system, a finished order means that the customer has reached the very last checkout page which thanks the customer for their order. If they haven't reached this page it could either be because the customer is still in the process of placing the order or they have started the order but have abandoned it.
Order abandonment
According to a study done by the Baymard Institute, who perform research studies on e-commerce usability, the average checkout abandonment rate for ecommerce websites has consistently stayed above 68% over the past 4 years. There are several reasons why a customer may add items to their basket but never actually complete their order and these include the following:
Unexpected shipping costs - be upfront with your shipping costs and make them easy to find on your website.
They were hoping to find a coupon code to use - if you use coupon codes, make sure customers are aware of them and can see them clearly on the site.
A complicated checkout - keep it as simple as possible, adding extra forms and options into the checkout will instantly create more hoops they have to jump through.
They were forced to create an account - make sure you have the guest checkout option switched on so they have a choice.
Their credit/debit card may fail - make sure everything is working correctly by doing a test order, otherwise it will be down to their particular card.
They were just browsing - yes, people add items to their basket with no intention of actually buying!
If a customer starts going through the checkout but doesn't complete their order for any of the reasons above, their order will appear within Unfinished Orders in your admin panel.
Off-site Payment Providers
One other reason an order may remain within Unfinished Orders is due the payment processor, especially if you are using an off-site one such as PayPal standard, Barclays ePDQ, WorldPay Business Gateway or Elavon Server.
If there is any break in communication between the off-site payment processor and your website then the customer won't be returned to the final page of checkout and the order will not be finished. This can happen for many reasons such as the customer's broadband briefly dipping out, the customer shutting the browser window too early or the payment processor's server momentarily disconnecting.
The Unfinished Orders area
Once uncompleted orders begin appearing in your CMS you will see something similar to above. You will see that each order has it's own unique order number. If you sometimes wonder why the order numbers in your Order Manager aren't always in sequence this is why.
If the customer has logged in, or have gotten as far as putting their details in, it will show their name and email address. It will also show the last page they looked at before the connection was lost and the time that it happened. If they have attempted to pay it will show in the Attempts column and it will also show how many product lines within the order in the Lines column.
The last column, Action, has five icons in it. These are as follows:
Remote Control - so you can complete the order for the customer via MOTO if they had a problem doing so.
HTML Pro Forma Invoice - this shows even if you haven't got the Pro Forma option switch on and is very useful if you want to do a one off pro forma invoice. You can view and print this by clicking on the icon.
PDF Pro Forma Invoice - as above but you can also use this to send the pro forma via email to the customer.
Mark as Paid - if you know this order has actually been paid for, and you have received the money, you can click on this icon and it will automatically move the order to the Order Manager
Delete - this will delete the particular order (not recommended)
You can, of course, search within this area if you're looking for a particular customer or order, just use the drop-down next to the search field to change your search type.
Why shouldn't you ignore this area?
We recommend checking this area regularly, particularly if you don't have payment notifications set up with your payment provider, as sometimes orders can be missed. However, we would recommend double checking everything before using the icons under the Action column to make sure you're not interrupting a customer who is at that moment placing an order on your website.
Keep an eye on the Last Page column and, if one particular page comes up time and time again, go and check it on your website to make sure customers aren't reaching a stumbling block. Don't rely on them to let you know as most will just get frustrated and go elsewhere, rather than spending the time to contact you.
Uncompleted orders will remain in Unfinished Orders for 30 days. This allows the customer to come back and complete the order during this time, which is why we don't recommend deleting any orders from in here. If you turn on the Abandoned Basket Email option on in Configuration > Orders this will send out an email to the customer after a set number of days to remind them that their order is still available should they want to complete it. You can change the wording of this email within the Language Manager within the Email Content section.