7 tips to make your christmas deliveries run smoothly

12 November 2014 | Cate

Black Friday and Cyber Monday are the busiest online shopping days of the year and it is crucial that you are ready to ship out all of those extra orders. Not only that, but you need to make sure your customers can place their orders as quickly as possible without having to search around for vital information or emailing you to find out what they need to know. To help you get your site ready for the Christmas rush, we've put together seven tips to implement either in-house or on your website, so you can focus on other things like marketing and customer service during the festive period.
1. Pre-pick bundle offers
If you're planning to offer exclusive bundle promotions during the Christmas period it is advisable to pre-pick and package them together beforehand so they are easy to select as a whole when the orders start to roll in. Keep them together in a special 'bundles' area near to your packing station so you can pick them quickly and easily. This will save valuable picking and packing time, allowing you to get your orders out faster.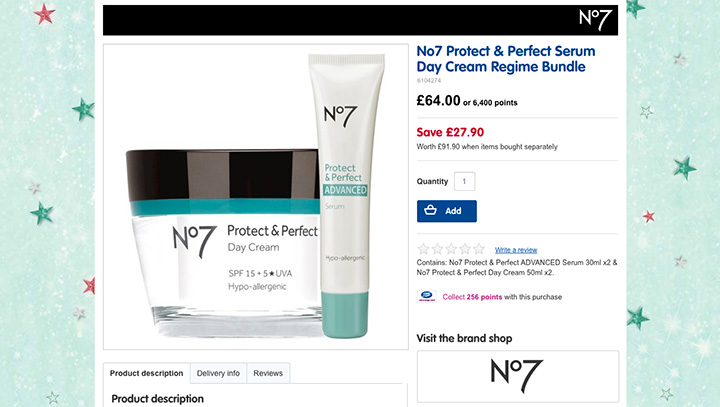 2. Order in your packaging
One thing you don't want to do during the busiest period of the year is run out of packaging materials. This doesn't just mean boxes and parcel tape but also printer paper and ink, bubblewrap, labels, gift wrap, sellotape and anything else you might use to send out your orders. Look at what you sold over the same period last year and work out if you have enough to cover this again as well as allowing for increasing year on year sales. Make sure everything is in an easy to reach place so there is no panicking once the busiest times hit.
3. Easy to find delivery information
Customers want to place their orders quickly during the Christmas period and one of the most important things they want to know is how soon they will get their order, as well as how much it will cost. They won't want to spend ages looking around the site for delivery information, so make sure it is as easy to find and as easy to understand as possible. Either add a tab to every product on your site which has the basic delivery methods on it with a link through to a more in-depth delivery page or add a link to the delivery information page in footer of the site.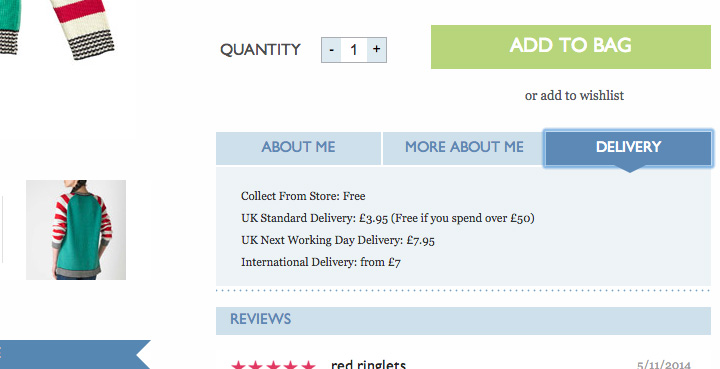 4. Add special Christmas delivery options
If you don't already, start offering a next day delivery option, particularly the closer it gets to Christmas. For those last minute shoppers this is invaluable and they are always happy to pay extra to make sure they receive their order in time. Also, if it is possible, consider offering a click and collection option so those who live close to you can pick up their order on a specified day instead of waiting for it to arrive in the post.
5. Revised returns policy for Christmas
Another thing people worry about when placing orders for Christmas gifts is if they'll be able to return them if the receiver doesn't like it or it doesn't fit. Extending your returns policy to last until to the end of January for any items purchased within November and December can alleviate these worries and encourage them to purchase with you rather than a site that doesn't have this. It doesn't necessarily mean you'll receive any more returns than you normally would at this time but it does help to increase the trust customers put in you and your company.

6. Display delivery cut-off times
We've all, at one time or another, left our gift shopping to the last minute and there's nothing more frustrating than thinking you'll receive something in time but actually the cut-off date for Christmas delivery was two days previous. Make it clear on your delivery information what your particular cut-off dates and times are so that your customers can plan their purchases. Without this information you are opening yourself up to complaints from disgruntled customers when their gifts don't arrive in time.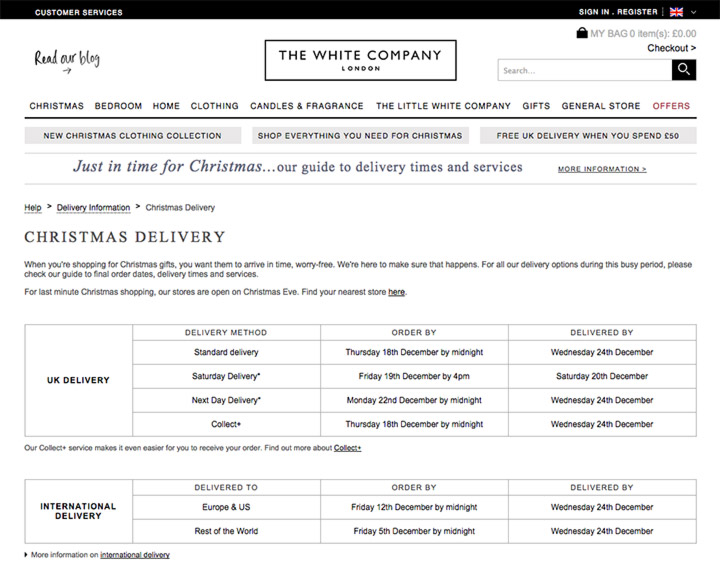 7. Educate your customers
Setting up all of the above is pointless unless your customers can actually get to and read this information. You can make sure they do in several ways:
Create clear and easy to understand tables and timelines for your shipping information that stand out so people don't have to sift through paragraphs of text to see it.
Add a small banner link under your header to link through to these so it sits on every page and visitors to your site can't miss it.

Let your fans know on your social media pages and remind them when each deadline is coming up.
Add this information to your email newsletters to inform your subscribers and, again, email them each time a cut-off date is due.
Have you got any tips to help with shipping during the busy season? Share them in the comments!