Featured Shop: 12 Volt Planet

1 Comment

3 October 2013 |

Cate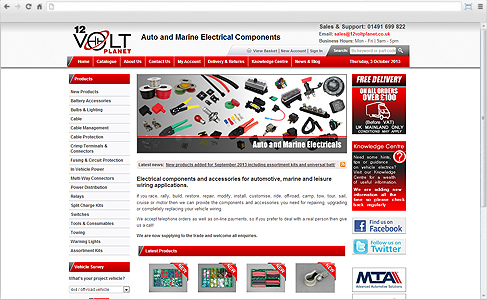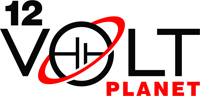 Contact: Paul Ballard

Email: sales@12voltplanet.co.uk
Telephone: 01491 699822
Website: www.12voltplanet.co.uk
12 Volt Planet supplies components, parts and accessories for low voltage vehicle wiring applications in the auto, marine and leisure after-markets. This includes areas such as kit car builds, classic car & motorbike restorations, in-car-entertainment wiring, campervan fit-outs, race and rally car installations, upgrades for off-road vehicles and towing, to name but a few. Our continually expanding product range comprises of around 900 lines including such items as cable, fuses, terminals, switches, connectors, bulbs, relays, cable management/protection parts, tools and consumables.
What were your reasons for starting an online shop?
The business was started from a completely blank sheet of paper at the end of 2012 aided by some experience in, and a passion for, vehicle electrics and a long-simmering desire to work for myself. I wanted to create a site that was clean, smart and attractive with strong branding and that was clutter-free and easy to navigate. As well as the products themselves, I was also keen that the site provide customers with a technical reference by having a series of Ďhow-toí articles or guides to accompany the products, which is why I created the 12 Volt Planet ĎKnowledge Centreí. Iíve got some big plans for this aspect of the site but one step at a timeÖ
What were your reasons for choosing Bluepark?

Early on I'd decided that a hosted solution was the right choice for me so I looked at some of the bigger hosting companies, however, the mixed reviews put me off. I seemed to find nothing but praise in the reviews for Bluepark which is what made me choose them in the end and I actually wanted to host with a smaller company so that I would get a more personal approach to the technical support. So far, I have not regretted my decision for a moment.
Did you design your site yourself or did you use an external designer?
I used ZigZag Design in Brighton for the aesthetic design of the site and some of the configuration and I then took over to build in all of the content. ZigZag have been excellent to work with and I would highly recommend them. The design I ended up with is the first one they proposed so itís really been a very pain-free process. Adding content and taking photos for 900+ products, however, was not so pain-free!
How did you find the process of setting up your site on Bluepark?

I donít think thereís any getting away from the fact that becoming familiar with any CMS when you havenít used them before presents quite a steep learning curve. However, all of the functionality in Bluepark's system is easily comprehensible, well explained and flexible, and in a couple of weeks I found I was flying around the admin console. Iím still discovering new features and the team at Bluepark have always been on hand to answer any questions Iíve had.
There are some areas where I would like to see additional functionality in the future and Bluepark seem to have a programme of on-going improvements to address user feedback, such as the recently introduced ability to de-activate certain variants; a feature which has helped me.
Do you have any advice for anyone starting an online business?
Iíve thoroughly enjoyed the process to date so I would say go for it, but donít underestimate the time it takes from having a business idea to launching your site. For me it took nine months and a lot of coffee!
We would love to feature your online shop next month. Please contact sales@bluepark.co.uk to find out more.