Featured Shop: StickyTiger

4 November 2013 | Cate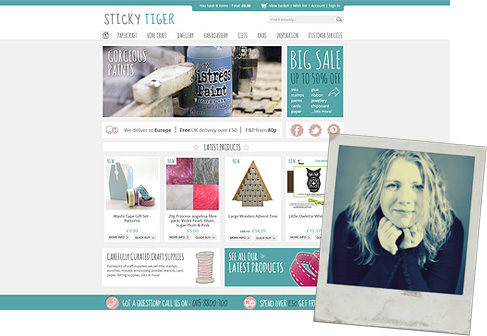 Contact: Nicola Barton
Email: info@stickytiger.co.uk
Telephone: 0115 8800 700
Website: www.stickytiger.co.uk
StickyTiger is an online boutique for crafts people, selling craft supplies and gifts
What were your reasons for starting an online shop?
I reconnected with my crafting roots when I became ill as a way of occupying my time. After leaving my job permanently, I decided to start selling craft supplies online from my home to give me the flexibility to recover. I still work from home but now occupy a converted outbuilding – my commute is an arduous 1 minute walk across a courtyard. I work longer and harder than ever but I love it.
What were your reasons for choosing Bluepark?

I did lots of research, set out a criterion for what I needed and whittled it down to three. I took out trials on each and contacted all three with further questions. Bluepark's response was quick and personal whereas the others were slow and anonymous. The forums backed up my suspicions about customer service and responsiveness. Us Blueparkers are generally happy customers and new features are added regularly.
Did you design your site yourself or did you use an external designer?
At first I designed the store myself to keep my costs down. Now my store is more established I've more recently had it redesigned by the fabulous Shelley Mitchell at Kluster.
How did you find the process of setting up your site on Bluepark?

It took a bit of getting my head around as there are so many features and I wanted something different from the standard templates available. The forum was really helpful and the Bluepark team responded when I got stuck.
How have you seen your online business grow?
My business has grown every year since going live in 2010. I regularly review my product offerings and tap into the latest trends. Crafters are visual people so advertising is a balance of online and printed media.
Do you have any advice for anyone starting an online business?
I took on too many lines very early on without enough time or experience to deal with them. In retrospect I would have expanded my range more selectively.
Advice to others? Accept that you'll make mistakes, use it as an opportunity to improve and make it up to those affected. Work out what you do well and find others to do the things you don't. Take time away from running the mechanism of your business to see the bigger picture – give yourself away time, even if it's a trip to your local cafe. Keep your sense of humour, listen to advice but trust your own judgement and remember running your own business is your choice, so enjoy it!
We would love to feature your online shop next month. Please contact sales@bluepark.co.uk to find out more.