Understanding Attributes, Additions, Options and Variants

17 Comments

Wednesday, 10 December 2014 |

Cate
One question we get asked a lot is what is the difference between Attributes, Additions, Options and Variants and how are they supposed to be used? These features are very helpful when creating your products and can give added definition that can be both beneficial to you and your customers. However, they can be quite confusing when you first start, and can often be called different things by other ecommerce software providers, so we've put together a guide to explain just how each one is supposed to be used on your Bluepark online shop.
Attributes
Attributes are pieces of information that are useful for the customer to know so they can decide whether or not it is the right item for them. These are particularly useful for industries such as printer supplies, electricals and motoring accessories because they can be used to display information such as energy rating, dimensions and voltage as well as particular features a customer may be looking for.
Attributes can be displayed on the product page either within a product tab or along with other information such as price, availability and product code.
They can also be used as choices within the refine block so customers can filter to the products they want to view, as well as appearing in the advanced search page.
Each product can have multiple attributes assigned to it and each attribute can have a number of values associated with it. For instance, if a product has a black and red pattern on it you may want to assign the attribute of colour twice, one with the attribute of black and the other with red. Please note, that attributes with multiple values will not appear on the product detail page.
Additions
Additions are items or services that are add-ons to a main product. This could be anything from an optional mug box for mugs, engraving on jewellery and an uploaded photo for a personalized canvas print. An addition shouldn't ever be something that you may plan to sell online as its own product.
Additions are displayed on the product page near to the price and add to basket button so the customer can choose to include this addition when they add the product to their basket.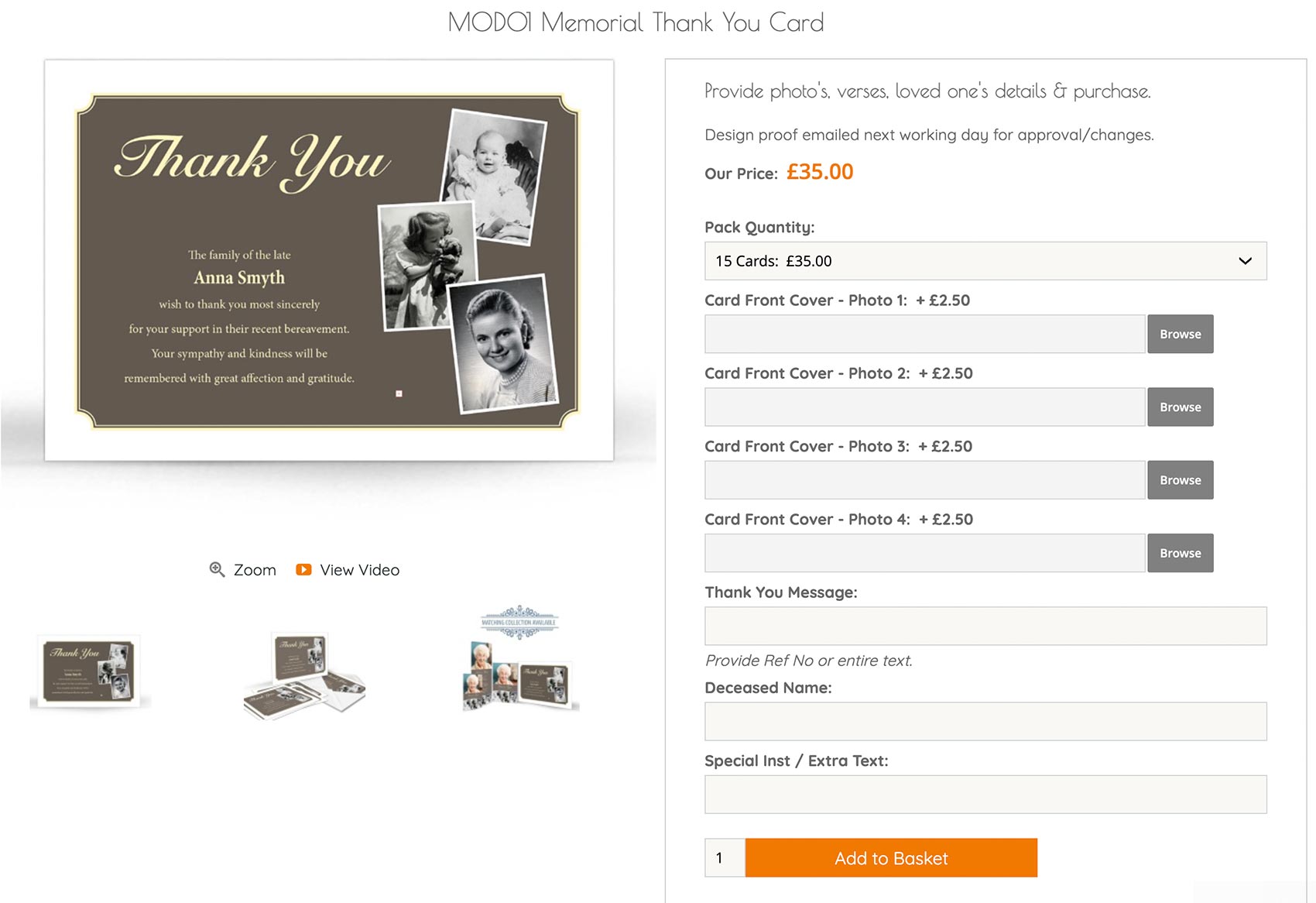 When an addition is created the values will always remain the same on each product it is assigned to. For instance, if you created an addition called Finish and it had the values of Primed and Painted with the Painted option adding £30 onto the product price, every time you added this to a number of products these values would remain the same on each product.
Additions cannot have stock levels assigned to them, so if you need the stock level to be managed for each value then you will need to use Options.
Options
Options are the different choices of a particular product such as colour and size of a t-shirt. These can be used alongside Additions to create a much more complex product to give the customer flexibility of choice.

When an option is created the values can be unique for every product the option is assigned to. For instance, if you created an option of Size, you could then assign this to one product with the values of small, medium and large, then assign the same option of Size to another product and have the values of 10, 12, 14 and 16.
Options are recommended if you wish to control stock of the different values.
Variants
Variants are created by the combinations of the different option values. Where you may have an option of colour, you may then have values of red, green and blue. If you then add another option of size, these may have the values of small, medium and large. The many variants of these are then created, which would be:
Red – Small
Red – Medium
Red – Large
Green – Small
Green – Medium
Green – Large
Blue – Small
Blue – Medium
Blue – Large
Each one of these variants can then have its own SKU, barcode, part number, selling, list and cost prices, weight, stock quantity, low stock value and can be set whether it is active, discontinued, has VAT included or is intangible, where it can then have its own file assigned to it. Each variant can also have its own unique image, in addition to the parent image and five alternative images.
Each product can have up to 500 variants assigned to it, which may sound a lot, but when you start to work out how many combinations just a small number of options will create it actually isn't that many. For instance, if you had a product that offered 3 different sizes, 12 different flavours and 14 different colours, this would create 504 variants, which would be too many.
In this case you may want to keep the sizes and colours as options but set the flavours as additions. It will display exactly the same on the product page and it will allow the price, weight and etc to change according to which size and colour is chosen. However, the flavour choice wouldn't affect things like the SKU or stock level.
If you have any questions about attributes, additions, options and variants please leave a comment below.