How to sell on Instagram

31 July 2020 | Cate
If you're still unsure about Instagram, then have a think about the 130 million people who tap on an Instagram shopping post to learn more about products every single month. That's a huge market you can easily reach out to simply by connecting the products on your website to your Instagram account. Alongside the Facebook Product Feed, available within your online shop's admin panel, we've created a helpful guide to get you selling on Instagram.
Get your account ready for Instagram shopping
Step 1: Confirm eligibility
In order to use Instagram Shopping, there are three conditions you must meet to confirm your eligibility to Instagram.
Your business must be located in a supported market. The UK and the US are included but for other countries, please see their full list here.
Your business must primarily sell physical goods. So, if you only sell downloadable items, you will not be eligible.
Your business must comply with Instagram's Merchant Agreement and Commerce Policies. We recommend having a good read of these before getting started.
Step 2: Convert to a business account
You cannot use Instagram Shopping on a personal Instagram account, so you must ensure your account is set to a Business account.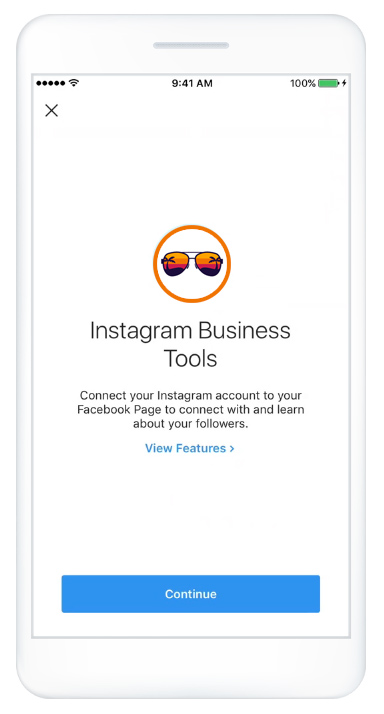 It's easy to quickly check if your account is a personal or business one by simply clicking on the Edit Profile button on your profile page. If there is a link that says Switch to Professional Account, then the account is a personal one.
To switch to a business account, click on the link and choose Business. Proceed through the steps to specify which category your shop belongs in and adding your contact information.
Find out more on Instagram's help guide.
Step 3: Connect your Facebook page
In order to tag your products on Instagram, you must have a Facebook Page and you must be an admin of that page. Once these are confirmed, you then need to connect your Instagram Business Account to your Facebook Page. This can be done during the switch process as outlined above or by following the steps below.
Go to your profile and click on the Edit Profile button.
Under the Public Business Information section at the bottom, click on the Page section.
Click on Connect Existing Page and choose the Page from the list.
Your business account is now connected to your Facebook Page.
If the Facebook Page you'd like to connect to doesn't appear in the Page list, it may be because you're not an admin of that Page. Check the Page's settings and make sure you have permission to add that page to your Instagram business account, then try again.
Upload your products
Once your Instagram profile is setup, the next step is to upload your products, so they can be tagged on your posts. To do this, they must be uploaded to Facebook Catalogue Manager. To do this, please follow the steps in our How To Setup A Facebook Shop guide below.
Start tagging your Instagram posts
Once everything has been approved, you can start using the shopping features on both Instagram and Facebook. Note: If you don't see Shopping in your settings, your account is either still under review or doesn't comply with Facebook/Instagram's regulations. Check your Facebook Catalogue Manager for more information.
Step 1: Enable Instagram shopping
In your Instagram profile go to Settings.
Click on Business and then Shopping.
Select the product catalogue that you want to connect to your account. Remember this needs to be uploaded to your Facebook Catalogue Manager first.
Finally click on Done and your Instagram Shop is enabled.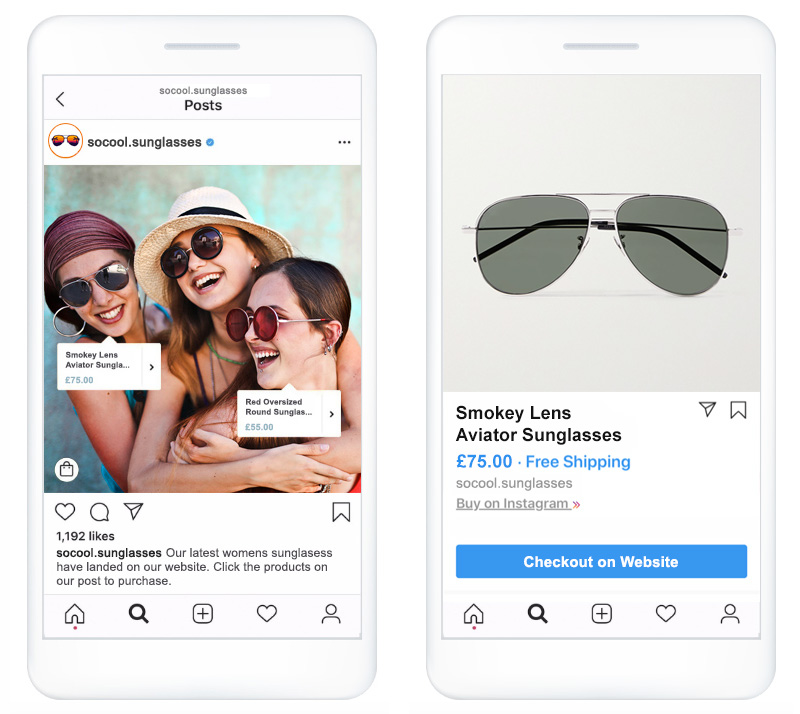 Step 2: Tag your posts
Tagging your photos and videos within your feed allows people to click on the tag(s), find out more about the product and then purchase it. Follow the steps below to quickly add a tag to a feed post.
Begin by uploading a photo or video, add filters/effects and write a caption as you normally would.
Before you click on Share, select Tag Products.
In the post, tap on the area of image or video you want to tag, then search for and choose the relevant product. Repeat for further products.
If you've uploaded a video, a tray will appear where you can select up to five products you want to tag.
Click on Done then, once you're ready, click Share.
Step 3: Tag your stories
Your Stories can also be tagged with Shopping Stickers. To add a tag to your Story, follow the steps below.
Begin by uploading a photo or video to your Stories as you normally would.
Click on the Sticker icon in the top right-hand corner and choose the Product Sticker.
Select the product from your catalogue that you want to feature.
You can then move the sticker to where you want it to appear and change its text colour before sharing.
Recommended reads
Find out how to create a Facebook Business Account, setup a product upload to Facebook using our built-in Facebook feed, and enable a Facebook Shop for your brand's Facebook Page.
How to use Instagram to boost your sales
With over 1 billion monthly users, Instagram holds a lot of potential for attracting new customers. Have a read of our helpful guide to find out how it can work for you.